Help Mike del Grande defeat pro-LGBT school board: LifeFunder
PORT TOWNSEND, Washington (LifeSiteNews) – An 80-year-old grandmother in Washington state has been banned from swimming at the YMCA after she complained that "a man in a women's swimsuit" was "watching little girls" change.  
"In an effort by the city and the YMCA to apply the neo-cultural gender rules at Mountain View Pool dressing, shower room facilities, women and children are being put at risk," 80-year-old Julie Jaman told Port Townsend City Council on Monday.  
Explaining why she feels this way, Jaman said that on July 26 she was showering in the local pool's facilities when she heard "a man's voice in the women's dressing area." 
When she went to look at what was going on, Jaman said that she witnessed "a man in a women's swimsuit, watching little girls pull down their bathing suits in order to use the toilets in the dressing room." 
While disputing Jaman's account, the YMCA's Marketing and Communications Manager did not deny the presence of the man, but told The Post Millennial that the staff member in question was not "engaging" with the young girls but was simply escorting them to the dressing room. 
The Communications Manger also confirmed that Jaman was indeed banned from the facility, but stated that this issue is just one in a series of many that led to that decision.  
In a local report from the Port Townsend Free Press, Jaman went into more detail about what she says happened during the July 26 incident.  
"There were gaps in the curtain and there I was, naked, with soap and water on me, and this guy, right there very close to me," recalled Jaman.  
"I asked, 'Do you have a penis?' He said, 'That's none of your business.' That's when I told him, 'Get out of here, right now."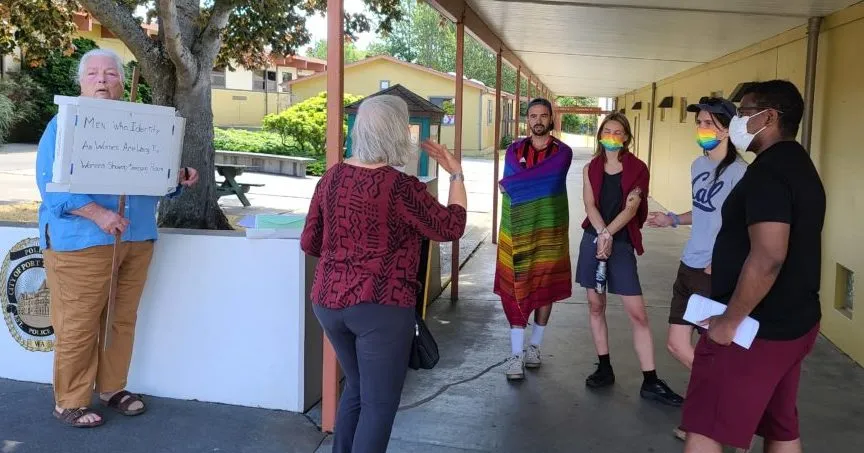 At that point Jaman says she noticed that one of the managers of the facility, a female, was also present in the room, and addressing her she demanded, "Get him out of here." 
"You're discriminating and you can't use the pool anymore and I'm calling the police," replied the manager, according to Jaman's account
The local report explains that in talking with Port Townsend Police Officer Marc Titterness, it was confirmed that Jaman did speak to police after she become "very triggered" and "had an emotional response to a strange male being in the bathroom and helping a young girl take off her bathing suit." 
Other police reports obtained by the Port Townsend Free Press show that anonymous callers from the YMCA also contacted police during the incident, complaining that Jaman had been "asked to leave and is refusing."
— Article continues below Petition —
Parents' Pledge: We will pull our children out of explicit sex-ed classes
Show Petition Text
4003
have signed the petition.
Thank you for signing this petition!
Add your signature:
Show Petition Text
There are countless reasons to conclude modern sex-education is less about critical thinking and more about indoctrinating and sexualizing children at as young an age as possible.
Consider these 3 questions:
Why are politicians around the world pushing radical transgender theories on children as young as 5?
Why is the World Health Organization calling for 4 year-olds to be taught how to masturbate?
Why are children in schools being shown graphic images of sex and told anything goes so long as consent is established, if not to encourage our sons and daughters to become sexually active?
A sane society would try to shield impressionable children from becoming sexualized, and encourage them not to watch pornography, take puberty blockers or mutilate their genitalia, but our schools increasingly promote these behaviors.
In reality, the media, most politicians, and many education chiefs are obliterating a parent's ability to protect their child's innocence and identity.
We must realize: these elites want children to have THEIR values, not YOURS. SIGN THE PLEDGE!
The results of this explicit, inappropriate sex-saturated culture and education have been startling: there have never been more children claiming to be transgender, gay, lesbian and bisexual, nor have we ever seen such high levels of sexual assaults by minors.
BREAKING: Loudoun County father who was dragged out of woke school board meeting reveals his daughter was 'raped' in the girls' bathroom by a 'skirt-wearing' male student who was arrested for assaulting a SECOND girl months later - but staff did nothinghttps://t.co/awoZcVQx3l

— Jack Posobiec 🇺🇸 (@JackPosobiec) October 12, 2021
This nut could end up being your child's teacher and you wouldn't even find out the craziness they're teaching until your kid tells you about it. If you aren't disturbed after watching this, you're a lunatic. School choice is the civil rights issue of our generation. pic.twitter.com/y1V3Rotx9k

— Robby Starbuck (@robbystarbuck) August 17, 2021
Countless politicians, media personalities and education chiefs are too busy promoting woke trends to realize that sexualizing minors amounts to grooming, and has devastating consequences in many cases.
Children whose inhibitions are broken down risk addiction to pornography, teenage pregnancy, STDs, gender dysphoria, online shaming, and a whole host of other negative outcomes.
Parents, not the government, must be in control of what their child is taught about sex.
Just listen to the type of materials public schools in the U.S. are promoting:
That's why we are asking you to sign the Parents' Pledge that you will pull your children out of sex-education classes if your school chooses to sexualize your child.
The Parents' Pledge is our best chance of winning back our children's schools before they're entirely lost to radical sex-obsessed teachers' unions who are foisting these curricula on teachers.
Do you really want other adults deciding what your child is exposed to? Of course not.
Please share this brand new grassroots Parents' Pledge with like-minded parents and join a growing movement of mothers and fathers who are wise to the threat of their child being led into sexual activity.
MORE INFORMATION:
Most teachers are disturbed by their unions' push to sexualize children
Planned Parenthood tells middle-schoolers about avoiding parental consent for abortion and contraception
The corrupting influence of sex-education is causing widespread abuse among school children
Another report includes a caller who alleged that Jaman was "screaming" at an employee and "calling [them] names." 
As the transgender agenda continues to gain steam, the issue of men who call themselves women using female-designated washrooms has become a major source of controversy throughout America, and the rest of the Western world, over the past few years.  
Despite multiple criminal incidences resulting from the allowance of biological males in female washrooms, U.S. President Joe Biden signed an executive order with the intention of "preventing and combating discrimination on the basis of gender identity or sexual orientation" in the first few weeks of his presidency, setting the stage for the U.S. Department of Agriculture (USDA) to announce an update to its rules for federal funding for school lunches in May of this year.
Under the new, radical rules, if a school wants to qualify for the federal lunch program they are required to consider "gender identity" a protected class and let biological male students use women's and girls' restrooms.
Help Mike del Grande defeat pro-LGBT school board: LifeFunder