SEATTLE (LifeSiteNews) – The Archdiocese of Seattle has announced plans to sell four of its buildings to a global property developer that specializes in projects centered on "sustainability" as part of a development looking to "reset" the housing market in line with "net zero" goals.
The Archdiocese of Seattle announced March 29 that, in conjunction with the Cathedral of St. James, it would be selling a total of four properties to Westbank, a global real estate development company described as "one of the largest net zero carbon developers in the world."
The properties for sale are St. James Cathedral's Pastoral Outreach Center at 907 Columbia Street and the Archdiocese of Seattle's buildings at 710 Ninth Avenue (Paul Pigott Building), 907 Terry Avenue (old Chancery Building), and 1104 Spring Street (Connolly House).The Archdiocese noted that as part of the sale agreement with Westbank, Connolly House would be preserved.
The aim of the sale, as explained by the Archdiocese, is to "create an inspiring carbon-neutral community that enhances the future of the First Hill neighborhood, while also supporting the continued mission of the Catholic Church."
— Article continues below Petition —
PETITION CONGRESS: Ban all males from female sports
Show Petition Text
8572
have signed the petition.
Thank you for signing this petition!
Add your signature:
Show Petition Text
The entire country has seen what happens when men enter women's sports.
Lia Thomas is a biological male, but he was nonetheless allowed swim against elite female competitors to win an NCAA Freestyle competition, much to the disappointment of those women who had trained so hard to compete.
SIGN THE PETITION TO BAN MALES FROM WOMEN'S SPORTS TODAY
Males have a natural advantage over females in the vast majority of sports, so allowing them to enter women's sports can:
crush the motivation of the biological girls who have worked hard to compete on a level playing field
put females into harm's way in contact sports and locker rooms
deprive women of their right to fairly compete for college scholarships and many other accolades
We all know the spectacle of Lia Thomas defeating those female swimmers was a charade, a mockery of women's sports, but now it's time to do something about it.
Please SIGN this urgent petition calling on members of Congress to pass a law banning the participation of biological males in women's sports.
This is not just about ensuring biological girls and women can compete fairly and win in their chosen sports, but it's also a major safety issue in contact sports and the dangerous use of women's locker rooms by gender-confused males.
Some of you will remember Fallon Fox, the male MMA fighter who claimed to be a woman and left his female opponent concussed and with a fractured skull.
Fox later announced on social media that he enjoys "smacking up" women who "talk transphobic nonsense."
Any reasonable person knows men shouldn't compete against women, but some people are too politically correct to take a stand and protect girls and women from this madness.
It's now time to join the growing pushback against the gender-confused lobby and their dangerous beliefs that have literally left some female competitors in the hospital.
Please SIGN this common sense petition calling on Congress to ban all males from competing in women's sport.
Future generations will look back with gratitude on those who stood on the right side of history, defending women from these very confused males.
Nothing less than a federal ban on biological males forcing their way into women's sport is enough, so this petition will be sent to all members of Congress demanding legislative action.
FOR MORE INFORMATION:
'Olympians, coaches, swimmers write open letter demanding NCAA protect women's sports' - https://www.lifesitenews.com/news/olympians-coaches-swimmers-write-open-letter-demanding-ncaa-protect-womens-sports/
'Female swimmer torches NCAA after losing spot to William 'Lia' Thomas: 'Make the right changes'' - https://www.lifesitenews.com/news/female-swimmer-nudged-out-of-competition-by-william-lia-thomas-torches-ncaa-in-open-letter/
'Rep. Boebert files resolution declaring female runner-up to 'Lia' Thomas the rightful winner' - https://www.lifesitenews.com/news/boebert-leads-resolution-to-declare-female-runner-up-to-lia-thomas-the-rightful-winner/
**Photo Credit: Fox News/YouTube screenshot
Westbank, in partnership with Creative Energy and Swedish Health Services, will use the Archdiocesan buildings to create over 1,300 residential homes, as part of the wider First Hill Seattle redevelopment plans. 
The First Hill development "will be one of the largest decarbonization projects in North America, achieving CO2 reductions in excess of 12,000 tons year." The plans themselves are currently on exhibition and are called "The Common Good." 
Writing that "self interest" dominates society, the development plans state that this results in "the greatest level of inequality in generations…threats to our climate, to a well functioning citizenry and to our democracy."
"Collectively, we need a reset," the plans state, employing terminology made famous by the World Economic Forum's Klaus Schwab in his Great Reset.
"The clearest example and most obvious existential threat to humanity is climate change and the destruction of the environment."
The development aims not only to become a "large-scale net zero carbon initiative," but also to serve as a "catalyst to decarbonize the broader neighborhood."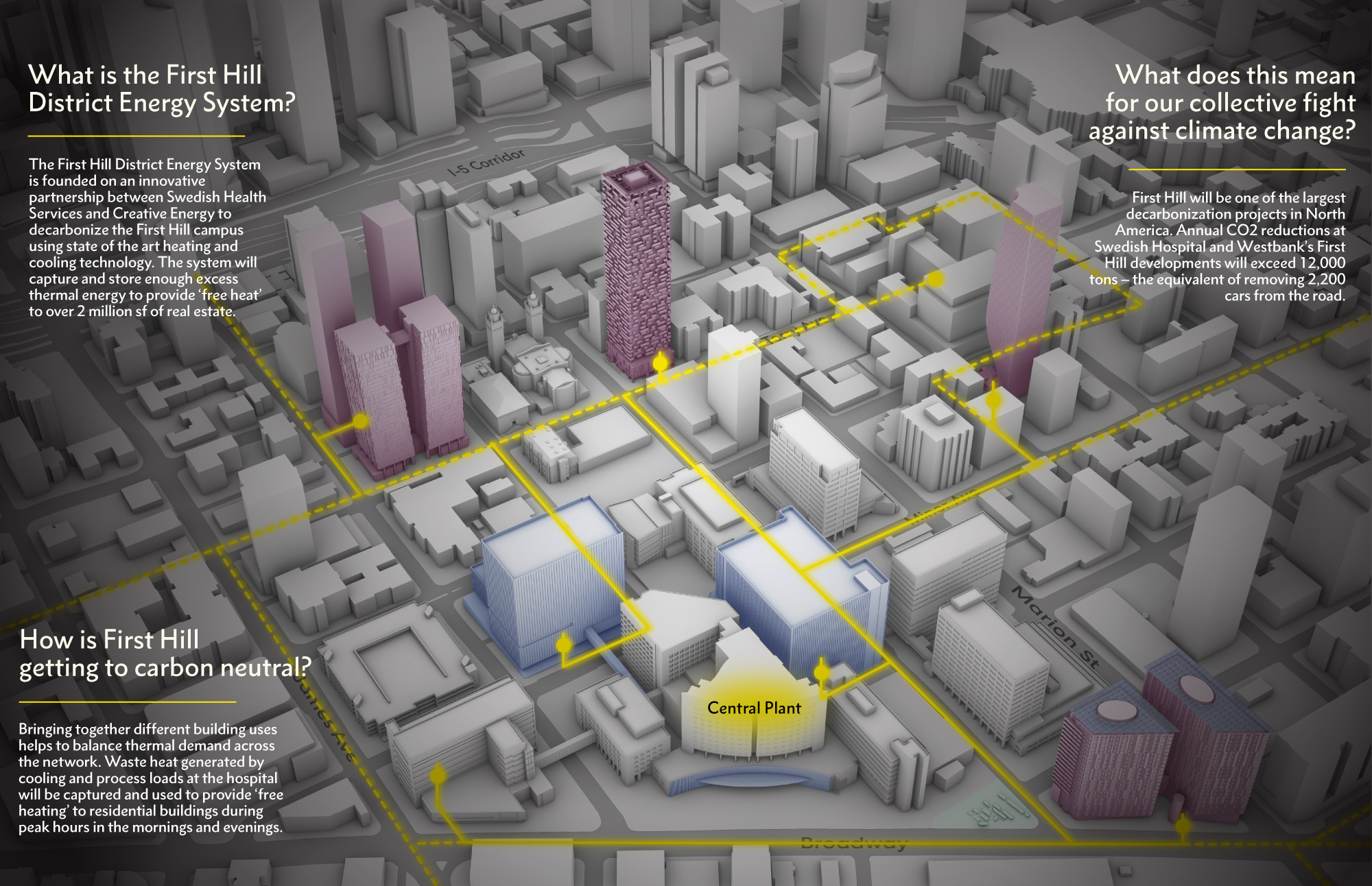 Commenting on the property sale, Seattle's Archbishop Paul D. Etienne said that "creatively thinking about how we can better use our properties to achieve the mission of the Church is exactly what we need to do as good stewards of God's gifts." 
"Redeveloping our real estate in a very efficient and sustainable way not only reflects our Catholic value of caring for our common home, but also provides us with resources to carry out our greater mission of bringing Christ to others," he said. 
The archbishop said that the sale was "ensuring we can continue the good work of the Catholic Church," a point which LifeSiteNews asked the Archdiocese about, but has not yet received a response.
Westbank's founder Ian Gillespie echoed Archbishop Etienne, saying that the company would use the archdiocesan buildings to help "First Hill significantly reduce its carbon footprint and demonstrate leadership globally in responding to climate change."
While Pope Francis has regularly championed climate change policies, pro-life and family advocates have continually expressed concern over the climate activism movement, as it is often aligned with pro-abortion and population control forces. Others criticize much of climate activism as being about garnering government grants and exerting statist power.
The former Papal Nuncio to the U.S., Archbishop Carlo Maria Viganò, previously linked the hysteria surrounding "climate change" to a desire for increasing governmental control over daily life. 
Writing in May 2021, Viganò noted that green policies would become the successor to COVID mandates: "Even if the pandemic farce does not have the desired effects due to unforeseen events, we already have the next step ready: the climate emergency as the pretext for imposing the 'ecological transition' and 'sustainable development'."
While Archbishop Etienne referenced Pope Francis' ecological writings, the Australian prelate Cardinal George Pell has criticized the Pope's 2015 encyclical Laudato si, saying that the Church "has got no mandate from the Lord to pronounce on scientific matters." Cardinal Pell has received much media backlash over the years for rejecting the ramped up fears of "climate change."