An Operation Rescue Special Report
Co-authored with Deborah Myers
Wichita, KS, July 30, 2013 (OperationRescue.org) – Operation Rescue has filed a complaint with the Federal Election Commission (FEC), the Federal Bureau of Investigations (FBI), and the Kansas Bureau of Investigations (KBI) against Trust Women PAC demanding a full investigation of the political action committee that appears to be partially funding a "for-profit" abortion clinic in Wichita, Kansas. The complaint lists eight classes of violations of the Federal Campaign Election Laws and Commission Regulations. It also documents possible criminal conduct.
Operation Rescue staff poured over volumes of Trust Women PAC filings and discovered that from July 2011 to present, not one report has been acceptably filed. The FEC has issued 12 separate Requests for Additional Information (RFAI) letters to Trust Women PAC in regard to errors, inconsistencies, and failure to file.
In fact, documentation shows that Trust Women's bookkeeping is so shoddy that it has thus far resulted in FEC fines totaling $4,268, not counting steep fees imposed for collection attempts.
Over $37,000 vanishes
But perhaps most troubling is the discovery that at least $37,118 of PAC money has simply vanished without a trace. In addition, there is at least $72,000 more – a quarter of all contributions made to the Trust Women PAC since 2011 – for which there has been no proper accounting.
Operation Rescue is demanding full investigations to determine if financial crimes, such as embezzlement and/or money laundering, have occurred.
PAC money pays for abortion business expenses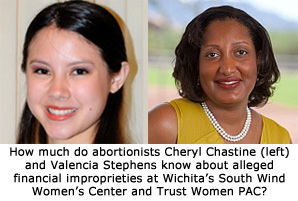 Trust Women PAC is operated by Julie Burkhart, who is also the Executive Director of South Wind Women's Center (SWWC), a new abortion clinic located in the building that was once owned by late-term abortionist George Tiller. Burkhart employs two fly-in abortionists, Cheryl Chastine of Chicago, Illinois, and Valencia Stevens of Arizona. Burkhart has used PAC funds to pay operating expenses for her abortion business. She has also used employees on the payroll of the PAC to staff her abortion clinic.
There is no record that the SWWC has ever reimbursed the Trust Women PAC even one cent of the money it spent to operate the for-profit business. One has to wonder how much Chastine and Stephens know about the Wichita abortion business' shoddy bookkeeping.
"It looks like Burkhart might be 'robbing Peter to pay Paul,'" said Troy Newman, President of Operation Rescue. "If her abortion business was profitable, surely she would not have to dip into PAC funds to pay for abortion clinic business expenditures. This is an indication that South Wind Women's Center is on the ropes financially with the blame falling on Burhart's mismanagement."
Eight Categories of Violations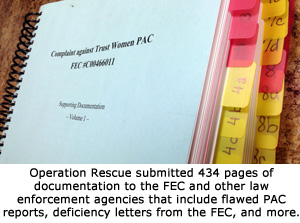 The alleged violations contained in the complaint include:
1. Failure to report contributions to Federal Candidates/Committees and Other Political Committees in a proper manner
2. Failure to classify disbursements in a proper manner
3. Failure to file a single acceptable report since July 2011
4. Consistent error in calculation and reporting of cash on hand and disbursements
5. Engaging in political advocacy within the state of Kansas without registering with the state
6. Submission of reports through a non-authorized treasurer
7. Use of PAC funds and resources to operate a for-profit business (South Wind Women's Center abortion clinic in Wichita, Kansas)
8. Disbursements of funds to non-existent entities sharing the Trust Women PAC address.
"Is this gross incompetence on the part of Burkhart, or is it criminal conduct? We think it is the latter, and that's why we are asking for a full investigation into financial malfeasance," said Newman.
Money flows one way
Burkhart has used PAC funds to pay for items for the abortion clinic such as a washer and dryer. That expenditure was listed as a disbursement for the Primary 2012 election cycle, which ended seven months prior to the purchase.
The Trust Women PAC also paid for SWWC's web hosting, internet marketing, and even robes for use by the abortion business. SWWC's abortion consent forms are sent to potential customers via a Trust Women PAC e-mail address belonging to a PAC paid employee, Katie Knutter.
"Money only flows one way: from the Trust Women PAC into the coffers of South Wind Women's Center. Profits from South Wind are pocketed by private individuals. It is all very irregular," said Newman.
Where did the money go?
But there are literally thousands of Trust Women PAC dollars for which there is no accounting. In the Trust Women PAC filings, it is common for the beginning balance for one reporting period to be several thousand dollars less than the ending balance for the previous reporting period. In all, Operation Rescue has discovered that $37,118.13 has simply disappeared.
There are questions that must be answered. Is this a matter of incompetent accounting or unlawful activity? The shoddy FEC reports raise suspicions that South West Women's Center could be acting as a money laundering scheme for PAC employees through which they embezzle funds, without suspicion of malfeasance.
"We have to wonder what happened to all that cash. One day the money is there and the next day it's gone," said Newman. "If someone is pocketing the money, it could be embezzlement, which is a serious crime. We are turning all the evidence over to the FEC, FBI, and Kansas Bureau of Investigation for further inspection to determine if laws have indeed been broken."
Unauthorized to file
Part of the problem is that Burkhart associate Amber Lockner has attempted to file reports on behalf of Trust Women PAC, but none have been accepted since Lockner is not the treasurer of record and has no authority to file. Burkhart made attempts to file Amended Statements of Organization, but all have been rejected due to the fact that Burkhart and Lockner did not submit the statements electronically, as required. In fact, the two appear not to have mastered the electronic submission process, resulting in reports that have been repeatedly rejected by the FEC.
Shadowy political groups get funds
Documents show that Trust Women PAC spent thousands of dollars on political mailings and GOTV calls in Wichita, as well as a contribution to the Kansas Senate campaign of leftist Tim Snow. These expenditures would constitute illegal campaign activity since Trust Women PAC never registered with the State of Kansas as required by law.
However, that is not the only thing suspicious about Trust Women PAC's illicit involvement in Kansas politics.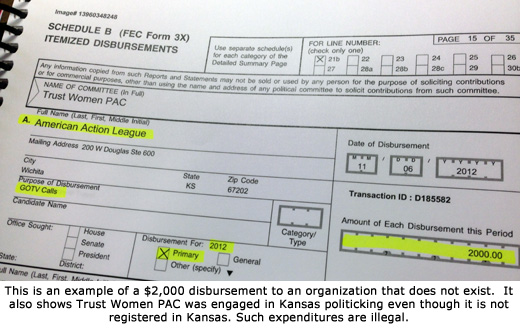 In the 2012 year-end report, Trust Women PAC lists a disbursement to American Action League for $2,000 for GOTV calls. The address listed as belonging to American Action League is the same as that used by Trust Women PAC. However, there is no business called "American Action League" registered with the Kansas Secretary of State. Where did the $2,000 really go?
Another disbursement entry found in the same report indicated that Trust Women PAC paid $9,750 to an entity called "Trust Women PAC (Non-Federal)" for more GOTV calls. However, no such committee exists. The Trust Women PAC is not registered as a "non-federal" entity. This represents yet another block of cash that appears to have gone to a non-existent entity for which there is no accounting.
Modus Operandi
This is a documented pattern of behavior for Burkhart. In 2006, during the hotly contested race for office of Attorney General between incumbent Republican Phill Kline and Democratic challenger Paul Morrison, Burkhart was the director of a political action committee founded and funded by late-term abortionist George Tiller called "ProKanDo." It was no secret that ProKanDo opposed abortion clinic investigations underway in Kline's office, especially since Tiller was a target. The election was influenced by a glut of mailings worth about $1 million attacking Kline that were put out by a "non-profit" organization called, "Kansans for Consumer Privacy Protection." Soon after the election, which Kline lost, the "non-profit" organization closed down, ending efforts to investigate it for improper political activity.
Burkhart was listed as a co-chair for Kansans for Consumer Privacy Protection, which shared the same address as Burkhart's ProKanDo.
The entire matter of Burkhart's unregistered political organizations operating in the shadows of unaccountability – funded by other Burkhart groups – is completely irregular. In order to protect the integrity of elections, a thorough investigation into this shady practice must be conducted.
Who gave and who received?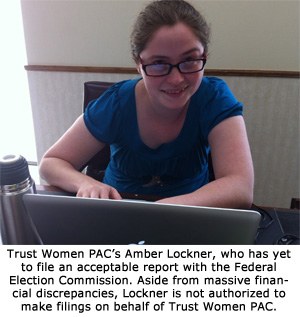 Another apparent violation discovered in the volumes of FEC reports is the failure to itemize many political contributions and disbursements. This means that thousands of dollars from unknown sources are flowing in and out of the PAC to unknown pockets for unknown reasons. In the past two years, over $72,000 in receipts were non-itemized – more than half of all PAC contributions! This amount is in addition to the funds that simply went missing.
"The reason that PACs must file detailed financial reports with the FEC is to ensure that illegal contributions are not taking place and that the money is being used legitimately," said Newman. "It appears very much like regulations are in fact being broken by Burkhart and Lockner on a routine basis."
Competency in question
The incompetence – and perhaps criminality – reflected in the Trust Women PAC reports also raises serious questions about the competency of Burkhart to operate an abortion clinic, where women entrust their lives and health. However, given Burkhart's PAC filings and her history of double-dealing, it is difficult to put much trust in any endeavor in which she is involved.
It has become apparent that South Wind Women's Center is financially "under water" and must access PAC funds to stay afloat. In fact, Burkhart is delinquent $2,900 in property taxes for the clinic facility – another indication that Burkhart's PAC and abortion clinic are suffering financial difficulties.
"If these people cannot figure out how to properly add and subtract, file a form online, or pay their bills, we question their overall competency in every other business matter," said Newman. "The shoddy reports are a red flag alerting us that their incompetence is likely a systemic problem. If that is found to be true, women are in grave danger at South Wind Women's Center."
Read the letter of complaint (with links to referenced documents)
Read the 434 pages of Documentation