ANALYSIS
VATICAN CITY (LifeSiteNews) — Pope Francis privately met the emeritus bishop of Hong Kong Cardinal Joseph Zen today – after refusing to meet the cardinal on his last visit to Rome in 2020 – in a meeting that raises key questions.
Dissident, Jesuit-run America Magazine reported that Pope Francis had received Hong Kong's Cardinal Joseph Zen in a "private audience" on January 6, the day after Pope Benedict XVI's funeral.
According to America, Pope Francis received Zen at "3:30 p.m. on Jan. 6, at Santa Marta, the pope's residence in the Vatican."
The report added that Zen told America the meeting he had with Francis "was wonderful. He was so very warm!"
In further comments to America, Zen revealed additional details of the meeting while noting that other aspects remained private. America wrote that Zen thanked the Pope for appointing Bishop Stephen Chow, S.J. as bishop of Hong Kong.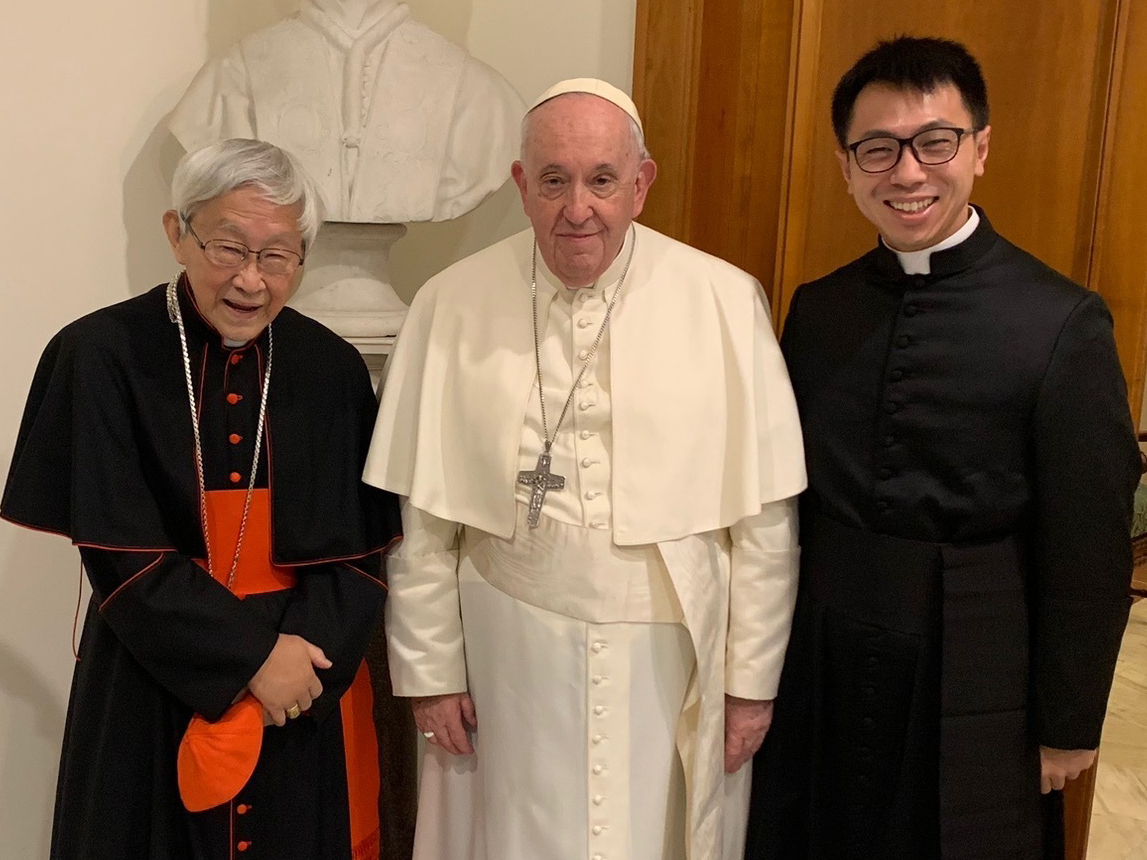 America also wrote that Zen spoke to Francis about his long-standing "pastoral ministry visiting prisoners in Hong Kong's jails." Francis was reportedly "very happy" to hear of Zen's prison ministry, which he continues to carry out daily.
America's report of the meeting portrays a very cordial encounter between Zen and Francis, with no mention of any conversation about Francis' secret deal with China or of Zen's recent arrest and trial.
In describing the end of the private meeting, America wrote thus:
The cardinal said the pope was in great form throughout the audience and full of good humor and even insisted on accompanying him and his companion to the door as they departed. Francis joked and laughingly explained this, saying, "I accompany you for two reasons: I want to make sure you go; and secondly, I want to make sure that you do not take anything with you!" They all laughed, and Francis waved goodbye.
Zen's presence in Rome was a welcome surprise, given that the Chinese Communist Party (CCP) authorities had been restricting his travel for some time, especially since his May 2022 arrest under the terms of China's draconian 2020 National Security Law, along with fellow trustees of the now-defunct 612 Humanitarian Relief Fund, who subsequently joined him in court.
In November, Zen was then found guilty of the lesser offense of failing to properly register the now-defunct 612 Humanitarian Relief Fund, and was consequently fined HK $4,000 ($512). Zen and his fellow defendants had pled not guilty.
However, in a court order on Tuesday, Zen was given a five-day travel clearance, and had his passport returned for that time, thus allowing him to attend Benedict XVI's funeral.
READ: Cdl. Zen allowed to leave Hong Kong for Pope Benedict's funeral 
According to America, he only landed in Rome at 5 a.m. on January 5, just 4 1/2 hours before Benedict's funeral began. He will now head back to Hong Kong on the morning of January 7, accompanied by his travel companion Fr. Carlos Cheung.
Zen, Francis and the Sino-Vatican deal
Zen was made cardinal by Benedict XVI in March 2006. Zen had submitted his resignation as Bishop of Hong Kong in January of that year, but Benedict only accepted it in 2009.
The now 90-year-old cardinal has long been a vocal critic and opponent of Pope Francis' secretive deal with Beijing, even accusing Francis of "encouraging a schism" and of "selling out the Catholic Church in China," while also characterizing the deal as "an incredible betrayal."
READ: Pope refuses to defend Cdl. Zen ahead of trial in Communist China, calls for 'dialogue'
He also suggested that the Vatican's silence over China's long record of human rights' abuses and persecution of the Church was perhaps an attempt "to establish diplomatic relations with (China)."
It was after Zen's criticism of the deal that Francis famously refused to meet the cardinal in September 2020. Zen was granted just 120 hours outside of Hong Kong, which he used to fly to Rome in an attempt to meet Pope Francis.
However, Francis was reportedly "very busy" and did not receive the cardinal in audience. Zen had been visiting to ask the pontiff personally for a new ordinary to lead the Catholic Church in the Beijing-controlled territory.
The still-secret Vatican-China deal was renewed for a second term only a few weeks after this failed attempt of Zen's to meet the Pope and was renewed once again this October. Both Francis and Cardinal Secretary of State Pietro Parolin have continually defended the deal.
Why a meeting now?
The meeting between Zen and Francis comes as a very unexpected move. It is even more unexpected given Francis' 2020 refusal to meet with Zen, and his continued thinly veiled denouncement of Zen during the summer of 2022, while the cardinal was undergoing his trial proceedings. Add to this Zen's repeated and vocal criticism of Francis' deal and the meeting is yet more surprising.
There may be good reason behind Francis granting the meeting, however.
First, aware of the media's attention to Zen's last-minute appearance at the funeral, Francis may have been more attentive to the media optics of giving the cardinal a better reception than in 2020. There is no doubt that Francis needs some positive media coverage given the shocking revelations of the Fr. Marko Rupnik affair, which LifeSite has covered in detail HERE.
READ: Jesuits confirm disgraced priest was excommunicated, focus now turns to Pope's alleged involvement
After enduring weeks of media scrutiny over his alleged assistance to Rupnik, reportedly lifting the excommunication the disgraced priest incurred within "hours," Francis could not afford to earn further scrutiny by turning Zen away from Rome yet again.
The fact that Jesuit-run America was the first to break the story, in addition to the fact that the meeting was described with such rosy language, might further lend credence to the argument that Francis was very concerned about his media image in the Zen meeting and ensured that carefully arranged plans were in place to break news of the event.
Second, meeting with Zen is arguably one of the most notable events that Francis has performed since Pope Benedict's death, aside from the funeral itself. For the first time since 2013, Francis is now the only man in white in the Vatican. The world's eyes are now solely fixed on him, an aspect that his close advisers will surely be aware of. 
Francis can argue that he has now met with Zen, thus hoping to silence those critical of his 2020 treatment of the cardinal. At the same time, though, it would appear that Francis managed to avoid any mention of the Sino-Vatican deal, or Zen's arrest, instead focusing on pleasantries. In this way, he is not likely to anger the CCP authorities and jeopordize his secret deal.
READ: Pope Francis' deal with Communist China has led to greater persecution of Catholics
Either way, the private audience that Francis gave to the much-persecuted Cardinal Zen on January 6 was a desperate attempt to win favor from the media. But unless the pontiff revokes his deal with the CCP, a deal that has led to increased persecution of Catholics, then today's meeting is nothing but a masterful act.