VATICAN CITY (LifeSiteNews) — Pope Francis made headlines Sunday when he invited a group of transgender "women" to take part in the Vatican-hosted lunch for the poor and sat opposite a "transgender" former sex worker. 
Following morning Mass, Pope Francis hosted the seventh annual World Day of the Poor at the Vatican, with over 1,200 people filling the Paul VI Audience Hall for a lunch with the Pontiff. 
But, as revealed by the Associated Press, Pope Francis invited a group of men who present themselves as women as special guests to the event. 
BREAKING: @APNews reports that #PopeFrancis has invited a local group of "trans women" to his lunch for World Day of the Poor today.
The group comprises many working as prostitutes: they're already regular special guests at weekly #Vatican audience.https://t.co/HlxrGWcbuk pic.twitter.com/4aPBDNRGFe

— Michael Haynes 🇻🇦 (@MLJHaynes) November 19, 2023
The guests were from a transgender group in Torvaianica – a seaside town south-west of Rome infamous for its sex workers and drug trade – and came with their local priest Father Andrea Conocchia.
READ: Pope Francis calls woman with sex-change operation a 'man' and calls partners 'married'
The 50-strong group Conocchia brought with him to the lunch included three men living as women: "Carla" Segovia and "Claudia" Vittoria Salas from Argentina, along with "Andrea" Paola Torres Lopez from Colombia. 
Salas was given a place directly opposite Pope Francis during Sunday's lunch.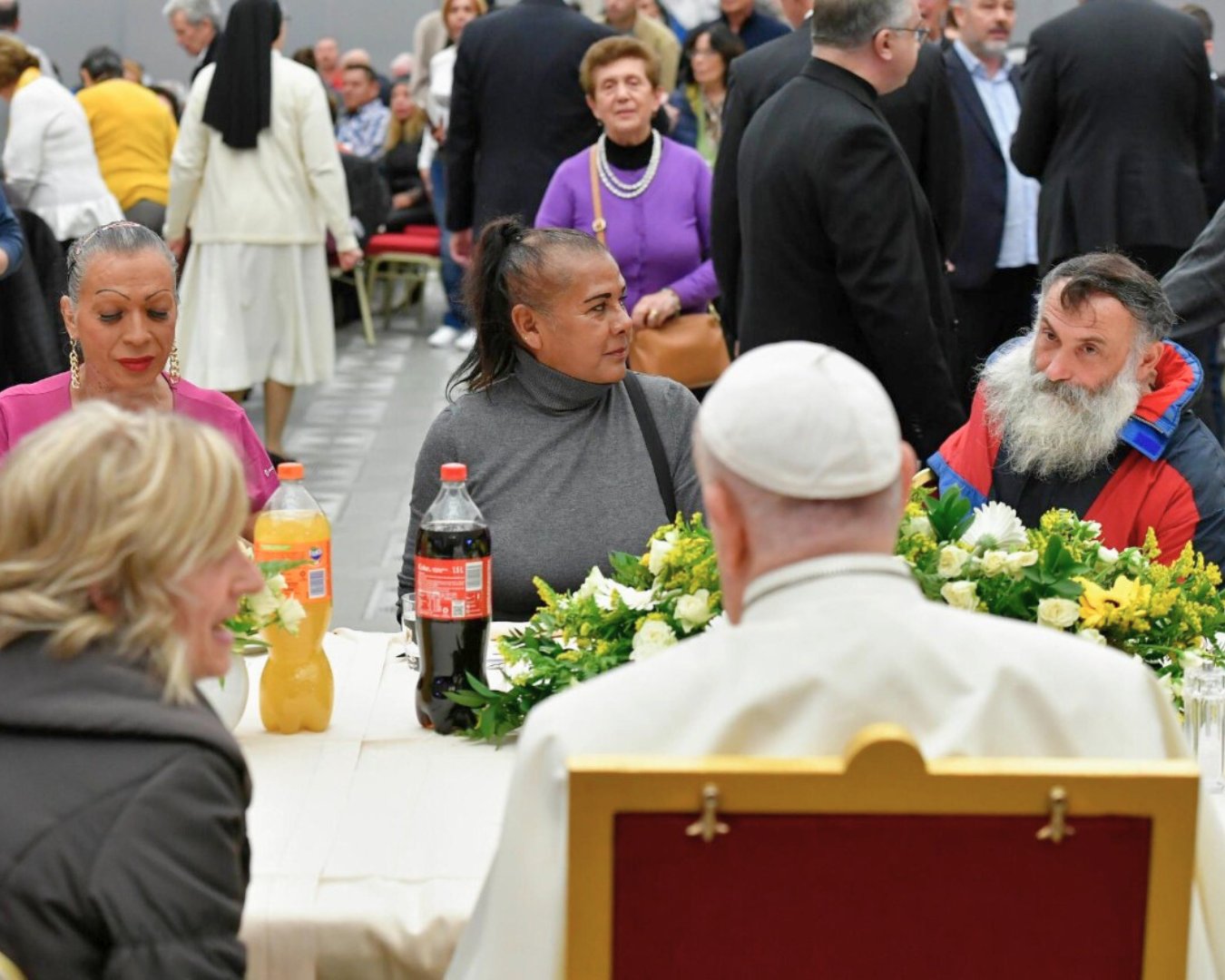 Reuters reported that "Carla" Segovia stated of the Vatican invitation: "This is a fantastic opportunity for all of us transsexuals [sic]. I send the pope a big kiss."
"We transgenders [sic] here in Italy feel a bit more human because the fact that Pope Francis brings us closer to the Church is a beautiful thing," Segovia added, speaking to Reuters prior to the Vatican lunch.  
As LifeSiteNews has reported, Pope Francis has made welcoming transgender groups to his weekly papal audience a consistent theme. 
Conocchia's group of "transgender" individuals first formed during the COVID-19 restrictions. The group, heavily comprised of sex workers, were without their regular form of income due to the restrictions, and thus gathered together in Torvaianica.
The group first came to Pope Francis' attention when they wrote to him presenting their needs. In 2020 Francis instructed his almoner, Cardinal Konrad Krajewski, to send money to the group after they contacted the Vatican for financial assistance.
Then on Holy Saturday 2021, Holy See officials brought the "transgender" individuals to the Vatican to receive the abortion-tainted COVID-19 injections. 
READ: Pope Francis personally invited transgender group to receive COVID jabs over Easter, senior Vatican cardinal confirms  
Pope Francis directed the Vatican employees not to question the "transgender" individuals about their gender. "Ask for their names, ask for anything they need, but do not ask them about their sex," said the Pope, according to  Juan Carlos Cruz, the openly homosexual man appointed by Francis to the Pontifical Commission for the Protection of Minors.
"It was truly Easter," commented Conocchia when describing the gift of the COVID-19 injections to the group. It was "a day of life and resurrection."
According to Associated Press, members of the group now make a monthly trip to Pope Francis' weekly general audience, at which they are given seats of honor. Nor are they the only pro-transgender or LGBT groups welcomed by the Pope: numerous such groups document and praise their meetings with Francis at the audiences. 
READ: Pope Francis welcomes dissident LGBT activists, lesbian partners in latest scandalous audience
But despite the papal hospitality, it appears that Francis is not encouraging the men – currently living as women – to return to the practice of the Catholic faith or to accept biological reality. The AP reported that Segovia is no longer practicing the faith although he welcomed the recent statement from the Pope and Cardinal Victor Manuel Fernández outlining – in rejection of Catholic teaching – that transgender individuals can be godparents. 
READ: Pope Francis says 'trans' people can be godparents, homosexual 'parents' can have children baptized
Salas, who sat across from Francis during Sunday's lunch, is apparently already a godparent for three of his nephews and nieces in Argentina.
According to a 2022 report on the transgender group in Torvaianica, Salas "transitioned" from male to appear like a 11-year-old girl. He is now 55. 
In contrast to the Pope's affirmation of the transgender group's way of life, Catholic teaching on transgender issues remains unchanged. The Catechism states: "Everyone, man and woman, should acknowledge and accept his sexual identity." (CCC # 2333)
The Congregation for the Doctrine of the Faith's 1975 document, Persona Humana, stated: "There can be no true promotion of man's dignity unless the essential order of his nature is respected."
Indeed, under the leadership of Cardinal Ratzinger in 1986, the CDF issued a document instructing bishops on the pastoral care of homosexual persons. The CDF admonished bishops to ensure they, and any "pastoral programme" in the diocese are "clearly stating that homosexual activity is immoral." 
More recently, Cardinal Raymond Burke and Bishop Athanasius Schneider, together with several other bishops, wrote in their 2019 Declaration of Truths that gender reassignment surgery is a "grave sin" and a "rebellion" against divine and natural law.