HAMILTON, Canada (Campaign Life Coalition) – It was a mild Canadian winter day in January of 1983. Michael Jackson's Thriller was about to set a record for being a top billboard hit for 37 weeks in a row. The super-popular TV show M*A*S*H was about to run its final episode, which, with 105 million viewers, would become the most-watched television event of the era. The country's federal government had just officially adopted the metric system of weights and measurements. Pay television was about to debut across the provinces.
One free television program that many people in the Ontario city of Hamilton and beyond tuned into on January 21, 39 years ago, saw legendary Canadian TV and radio broadcaster Tom Cherington interviewing two well-dressed men. These were not ordinary men. Both were doctors. And they were not ordinary doctors. In fact, both had done more than any others in their field to advance abortion across North America, both in Canada and in the United States.
Both of the doctors on the Cherington show that day were each responsible for the demise of thousands of preborn children through abortion. One doctor still championed abortion and would go on to work tirelessly for its expansion. The other, however, had recently undergone a radical change of heart on the matter. Not only did he deeply regret his former abortion activism, but he now championed a complete moratorium on abortion.
These two doctors, an abortionist and an ex-abortionist, were about to go head-to-head on live television. Their complete hour-long epic showdown has not been published anywhere online until today. We at Campaign Life Coalition, Canada's political arm of the pro-life and pro-family movement, unearthed a copy of the interview from our archives and uploaded it to YouTube.

"We have a fair sampling," Cherington, wearing a pink shirt and red tie underneath a black pin-striped suit-jacket, began the segment in his deep, powerful voice. "For those of you who haven't got on [the show with your phone call], stay on the line. We'll be back with our two guests and the discussion will begin on the abortion clinic set-up and the whole question of abortion."
Cherington's special guests on his CHCH-TV program were none other than abortionist Henry Morgentaler, sometimes referred to as "Canada's Father of Abortion," and Dr. Bernard Nathanson, a former U.S. abortionist who had previously earned the title of "The Abortion King" for his highly successful abortion activism in the medical and political arena.
At this time in 1983, Morgentaler had already been running a successful, but illegal, abortion centre in Montreal for about a decade and a half. In 1969, the Liberal government, led by Prime Minister Pierre Trudeau, amended the Criminal Code, in which it was a crime to induce an abortion, to henceforth allow doctors to commit abortions in accredited hospitals.
The new law required that for an abortion to proceed, a Therapeutic Abortion Committee of three doctors must first determine that the preborn baby threatened the mother's life or her health, a term that was broadly interpreted. Abortion remained illegal in all other circumstances, including in Morgentaler's private abortion mill.
In 1973, Morgentaler boasted of flouting the law by having aborted some 5,000 preborn babies outside of the hospital setting. His run-ins with the law, which included jail time, would eventually culminate in a 1988 Supreme Court hearing, where the court would strike down the 1969 abortion law as "unconstitutional."
According to the judges in that 1988 ruling, the law's criteria for abortion infringed upon a woman's right to "life, liberty and security of person." The court at that time did not establish a "right" to abortion. In fact, the court left the "abortion question" to Parliament to, in the words of the ruling, "pronounce on and to direct social policy."
To this day in Canada, abortion still persists in a legal vacuum, leaving the preborn with no legal protection. Abortion is permitted throughout all nine months of pregnancy, for any reason or no reason whatsoever, up to the moment of birth. Morgentaler was awarded the Order of Canada in 2008 for his work in securing legal abortion on-demand for Canadian women. He died in 2013 at the age of 90, bearing much responsibility for some 100,000 induced abortions committed annually in Canada.
Morgentaler's 1983 defence of abortion on CHCH-TV
When asked by Cherington on that January day in 1983 what drove him to champion abortion, the 60-year-old abortionist made the case that all he wants is the "protection of women's health and the protection of their dignity."
"My position is that every woman has a right to decide whether pregnancy should go on to term or not. And if she decides that the pregnancy comes at a time when it's inappropriate, where she cannot provide mothering and care for a child to come, I believe she has a right to say to a doctor, 'I wish this pregnancy to be terminated' and she should have a right to have it under decent medical, and psychological, humane, conditions," Morgentaler said at one point during the interview.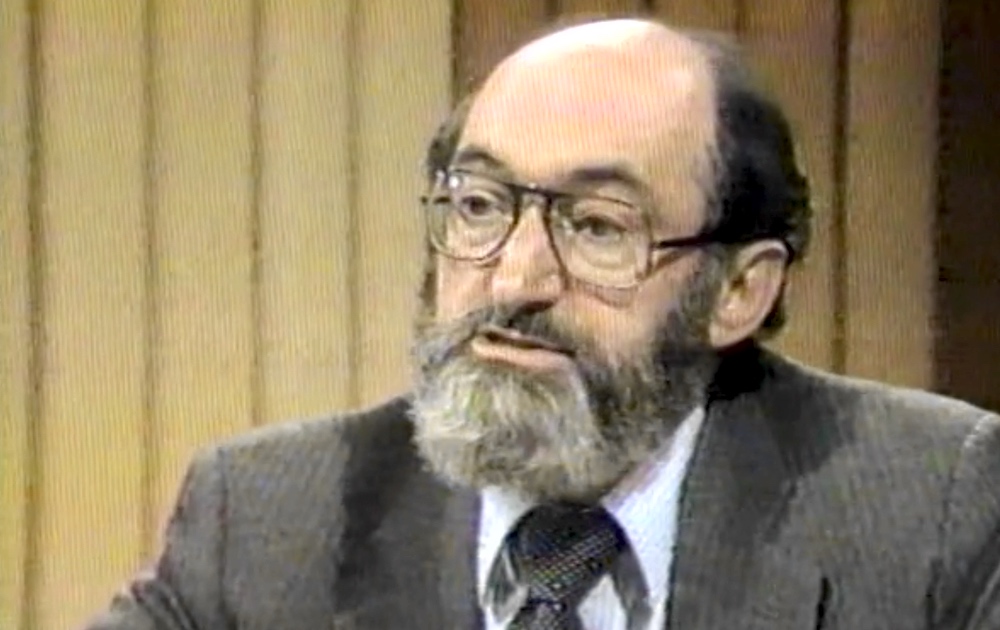 Morgentaler argued during the interview that legal abortion on-demand was the solution to "real human problems."
"Dr. Nathanson knows like everybody else," he said, "that unwanted pregnancies do occur. Often they occur as a result of failure of contraception or because contraceptives were not taken. They do occur sometimes as a result of incest and as a result of rape." Abortion, he said, is needed to solve these problems.
During the interview, Morgentaler promoted abortion as the ticket to a prosperous and peaceful society where parents would be empowered to raise only the children they "wanted" and "desired" and would, therefore, raise them well.
For Morgentaler, abortion helps parents to love their children. "People nowadays have to limit their capacity for reproduction, limit it to the point where they have the number of children whom they can give care and love and affection," he said.
And, he sees abortion even as the "cure" for society's woes. "That's why there's an excessive violence," Morgentaler said, "because we live in a society where for generations, children have been abused and lots of unwanted children have suffered frustration and abuse, physical abuse, mental abuse. And these children become the adults who abuse their own children. If we have a few generations when abortion is available and family planning is available…"
At this point, Nathanson chimed in with irony: "More abortion will cure everything!"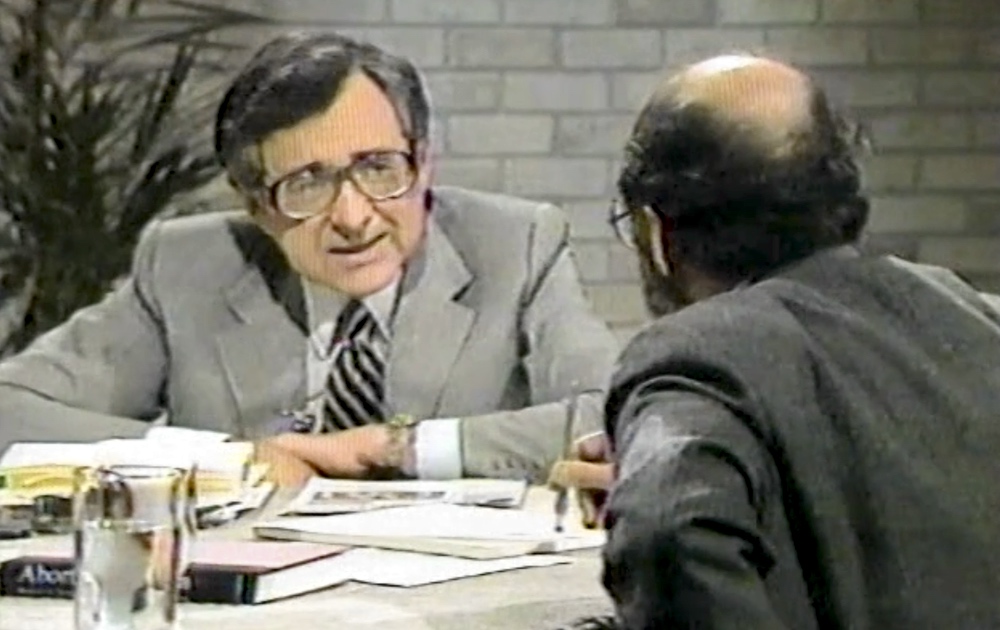 "It will cure a lot of things," continued Morgentaler. "Where children are wanted, desired, given love and affection and care in their home with two parents, preferably, these children will not grow up to be haters and killers and the rapists and maimers. These children will grow up to be able to be loving individuals, able to get into relationships, able to be productive, able to enjoy life."
The abortionist at one point went as far as stating that he campaigns so vigorously for abortion so as to make sure that places like Hitler's extermination camps never return.
"I'm a graduate, Dr. Nathanson, of Auschwitz and Dachau. I know what it means to have a totalitarian system which exterminates people. I know that. And it's because I want Auschwitz never to happen again that I help women to get abortions, so that children which will be born, will be born into homes where they are wanted, desired, given care, affection and love, so that they will become loving, responsible individuals and not Hitlers or Stalins, and Mussolinis, or other scourges of society."
In one poignant moment during the interview, Morgentaler made what he called a "confession" that when he was a medical student in Montreal, he decided, along with his wife, to abort the second child they had conceived together.
"I had one girl already, who was two years old, and my wife got pregnant while I was a medical student. I was a poor medical student. And, we decided that she should have an abortion. And, she did have an abortion under very sordid conditions. Fortunately, it was done by a doctor. Now, we regretted that. But, it was the right decision. Four years later after I graduated and my wife had another child, a boy, and that was fine."
When Nathanson pressed Morgentaler as to why he regretted the abortion, he replied: "Because many women do regret the fact that, unfortunately, the context of the situation is such that at this point in time we cannot provide the mothering and care which a child needs."
When Cherington asked Morgentaler if he was saying that there's a "lot of sorrow attached to this business," he replied: "Of course."
Nathanson's defence of life
Cherington introduced Dr. Bernard Nathanson on the show as a New York "crusader" who presided over some 75,000 abortions, 1,500 personally, before having a "dramatic change of heart" and becoming "pro-life."
"What do you have to say, sir?" Cherington asked the doctor.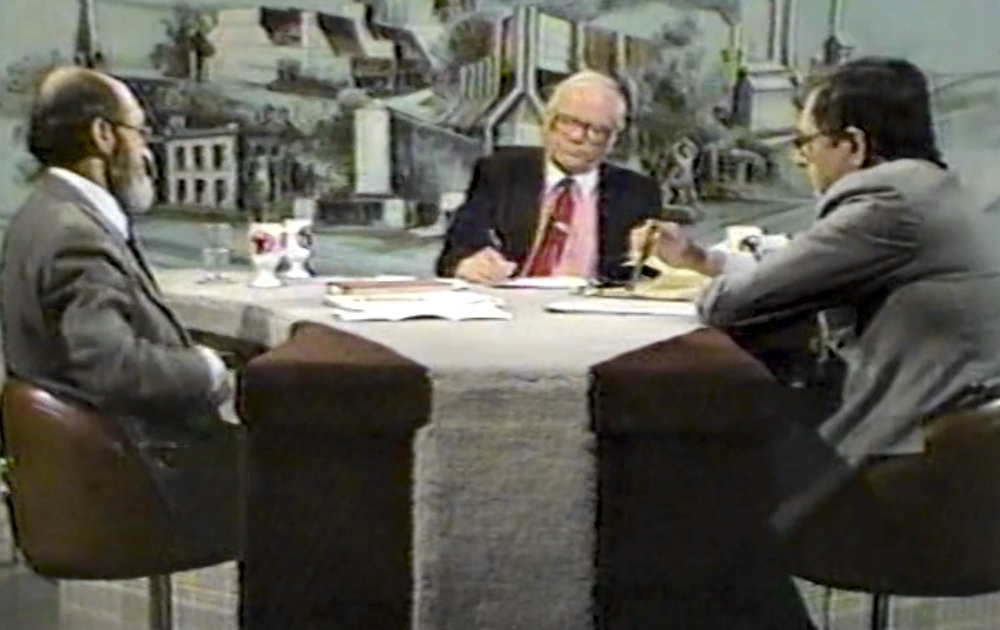 As it turns out, Nathanson had a lot to say. The Manhattan obstetrician-gynecologist had helped found the National Association for the Repeal of Abortion Laws (now NARAL Pro-Choice America) in 1969, serving as its medical adviser. He had also served as the director of New York City's Center for Reproductive and Sexual Health, which was then regarded as the largest abortion mill in the United States.
His abortion advocacy played a large part in helping convince the Supreme Court to legalize abortion throughout America in the 1973 Roe v. Wade decision that resulted in abortion on-demand up to birth.
With the advent of the new technologies of fetoscopy and ultrasound that provided a clear view into a mother's womb, Nathanson became more and more troubled about abortion. In the late 1970s, he became convinced that abortion was wrong. In 1979, he declared himself pro-life. He especially broke into the pro-life scene with his narration of the 1984 film The Silent Scream, which depicts an actual abortion witnessed through ultrasound.
When Nathanson addressed pro-life audiences in the years that followed his conversion, he often drew gasps as he described his lurid past – how he had persuaded a pregnant girlfriend to abort their child; how he had he impregnated another woman and aborted that child himself; how he had aborted the unborn children of his friends, his colleagues, his casual acquaintances, and even his teachers.
Nathanson, in fact, took responsibility for an estimated 5,000 abortions he committed himself. "I know every facet of abortion," he once wrote. "I helped nurture the creature in its infancy by feeding it great draughts of blood and money; I guided it through its adolescence as it grew fecklessly out of control." Nathanson remained a strong pro-life advocate until his death in 2011 at the age of 84.
Nathanson explained to Cherington that January morning in 1983 how the "study of fetology" led to his pro-life conversion.
"Fetology, as you know, is a new science that uses new technology, such as ultrasound and electronic fetal heart monitoring, many other new modalities, which are sophisticated and fantastic. And we have opened up the whole life of the fetus for study. And of course, those studies have finally culminated in a growing realization that the fetus is entirely similar, identical to any of us – that it's a member of the human community. And as a result, all the rights and privileges and protections which we are afforded should, of course, flow to that person, that prisoner in the womb for nine months."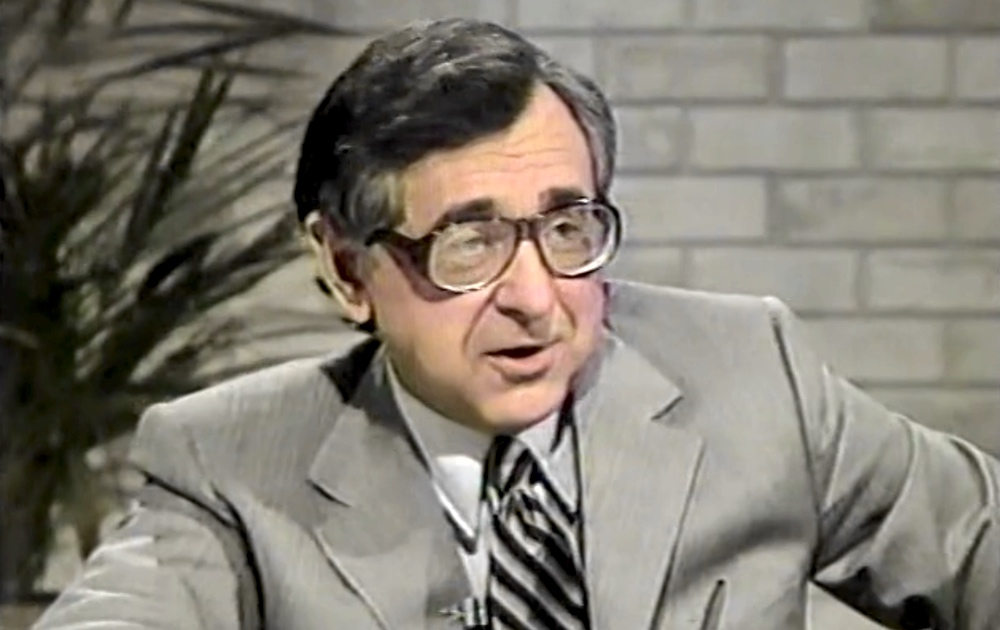 When Morgentaler pushed Nathanson to say if he holds abortion should be "completely illegal" or if there are any circumstances in which he would allow abortion, Nathanson revealed his then compromised position on the matter, which would not change until U.S. pro-life leaders, such as Judy Brown and Nellie Gray, convinced him that to be pro-life meant there could be no exceptions for abortion.
"These are legitimate questions," Nathanson replied to Morgentaler. "Let me respond to them. To begin with, I think that there's only one reason, or one reasonable justification, for abortion. And, that is where the mother's physical life is in imminent jeopardy. I think there, a woman is entitled to defend her life, but short of that, I do not think there are any other reasons for abortion."
On this point, Nathanson would eventually come to the same position in principle as outlined in the Dublin Declaration on Maternal Health, formulated one year after his death, in which it was stated that "the purposeful destruction of the unborn in the termination of pregnancy – is not medically necessary to save the life of a woman."
When asked about abortion in the case of rape, Nathanson replied that rape was not a sufficient reason to destroy a human life.
"You see, the problem here is we have a child, the fetus, or person, created under circumstances which are tragic, no question. But those circumstances should not stigmatize the life of that child. I put it to you that not every one of us were conceived in the most ideal circumstances. And in fact, many of us, unknowingly or not, may, in fact, have been conceived in an act of rape. Yet that should never stigmatize our lives. We were innocent. Why should we be destroyed?"
When asked about abortion in the case of an "unwanted" pregnancy, Nathanson said that social issues demand a social solution.
"It is as inappropriate to cope with this particular social problem with a destructive surgical means as it would be to treat violent criminals with lobotomy or rapists with surgical castration. Those are social problems as well. We do not treat them with violent surgical means. Should we still return to the 19th-century practice of treating chronic masturbators with vasectomy, as was done? Vexing social problems call for imaginative and humane social responses, not surgical holocausts."
When asked by Cherington about what should be done with children in the womb with "terrible deformities or problems," Nathanson responded that such children may not be "casually destroyed."
"Then, I think, we have to prepare ourselves for the birth of that child, because that child may not be casually destroyed. You see, that life is not yours or mine or anyone else's to do away with."
When accused by Morgentaler that he was only interested in the life of the "fetus," Nathanson responded that his interests are both the woman and the baby.
"My interests are both. I have the interests of the mother at heart. I have the interests of the fetus at heart. They are necessarily coequal interests. I do not value one over another. Human life to me is all-important and supreme. And, therefore, I think that that understanding should underlie all of our discussion here."
At one point during the interview, Nathanson called for a "moratorium" on abortion until a solution could be arrived at that respected life in the womb. He even proposed a solution.
"Let's call a moratorium. Let's work out a technology whereby we can take that pregnancy out of the uterus, put it into a life support system or someone else's uterus, and then everybody's rights, everybody's wishes will be respected – the woman will no longer have the pregnancy, the fetus will not be destroyed."
When Morgentaler insinuated that Nathanson's position was due to religious reasons, Nathanson countered that he was not "acting out of religious conviction, since I do not have any religious convictions."
It would be 13 years later, in 1996, that the former self-described atheist would convert to the Catholic faith. In later years, when Nathanson, the former abortionist, was asked about why he became Catholic, he confessed that "no religion matches the special role for forgiveness that is afforded by the Catholic Church."
There were some exchanges between the two doctors that were especially on point, including this one where Nathanson compares the choice of abortion to slavery and Morgentaler makes it clear that he does not think that the baby in the womb is human.
Stated Nathanson: "These children, these fetuses, are not anyone's property, any more than slaveholders could argue, 'Look, you people in the North, you may not like the way we treat our slaves, or that we have slavery, but it's our choice, our freedom of choice. Don't try to impose your beliefs on what we think is necessary in the South.' And if that situation had prevailed, if freedom of choice had remained, we would still have slavery in the United States, wouldn't we?"
Responded Morgentaler: "Well, you bring in comparisons that are completely inadequate, because the question of slavery is a question of dealing with human beings, whereas a woman who gets pregnant, who wants an abortion, she does not want these few cells to develop into a human being."
Replied Nathanson: "You are not a fetologist, you are not an obstetrician; you don't understand – you haven't seen the ultrasounds. You are not a physician, Dr. Morgentaler; you are an abortionist."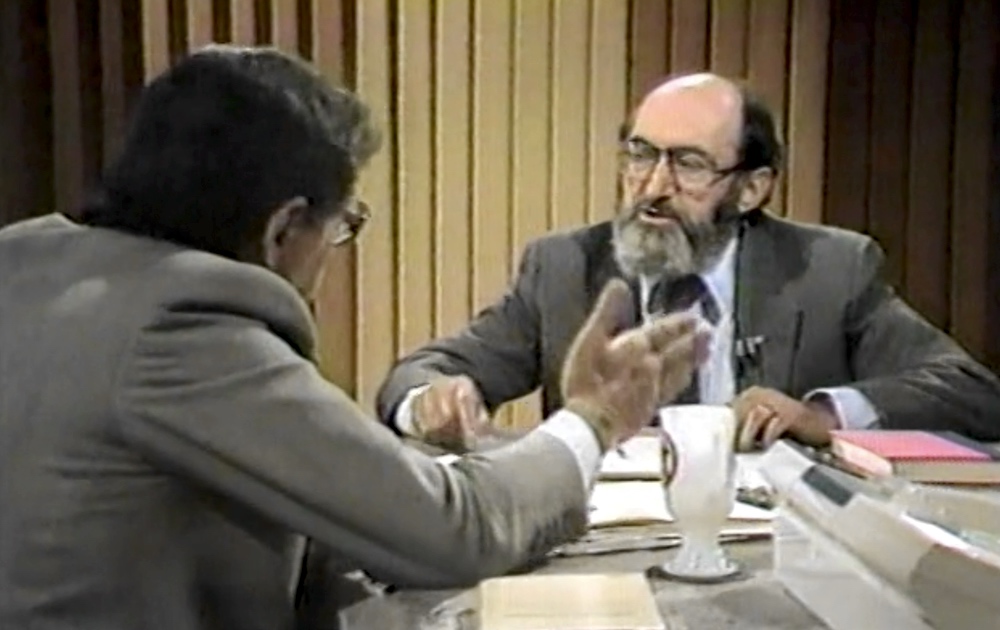 Another exchange highlighted Morgentaler championing "freedom of choice" and Nathanson making it clear what that choice means.
Stated Morgentaler: "These women who believe that they have a right to terminate their pregnancy, do you respect their choice? This is freedom of choice."
Responded Nathanson: "That kind of choice I do not respect. The choice that involves the destruction of an innocent, unprotected human being, it's not an ethically acceptable choice at all."
At another point, the debate became amusing when Morgentaler started using catchphrases from the pro-abortion movement, including "freedom of choice" while accusing Nathanson of wanting women to return to "coat hanger" and "back-alley" abortions. Nathanson then sighed audibly, telling Morgentaler that it was actually Nathanson himself and his friends at NARAL that came up with those slogans in the first place.
— Article continues below Petition —
PETITION: STOP Medical Discrimination at the Ronald McDonald House!
Show Petition Text
17052
have signed the petition.
Thank you for signing this petition!
Add your signature:
Show Petition Text
Tell the Ronald McDonald House in British Columbia (BC) and Yukon to stop discriminating against families who do not wish to get the experimental COVID-19 vaccine!
It seems incredible -- like one of those click-bait headlines you see every day on shady websites.

But this is 100% real, and represents a terrifying new reality that families with sick children are facing without any rational or logical justification.

That's why we're asking you to SIGN and SHARE this crucial petition asking the Ronald McDonald House Charities leadership to STOP discriminating against the unvaccinated family members of sick children who need their support.

The Canadian Ronald McDonald House BC and Yukon, which provides housing for the families of sick children who are being treated in nearby hospitals, has sent letters to families ordering them to submit to the experimental COVID shots or to vacate the premises -- regardless of their children's needs.

On the organization's website, the Ronald McDonald House plainly states the following: "All guests and visitors to the House must show proof of full vaccination against COVID-19. These measures in addition to an abundance of sanitizer and kindness will help us ensure the safety of everyone at the House."

But, of course, none of the measures suggested by the Ronald McDonald House, much less the COVID-19 vaccine, have been successful in stopping or even slowing the virus' transmission or reducing infection rates.

And with Pfizer's own CEO admitting just this week that the two COVID shots are not effective at preventing infection, it remains unclear what, exactly, the Ronald McDonald House means by "full vaccination."

Regardless, denying families housing during their child's hospital stay -- which is the primary mission of the Ronald McDonald House -- is not only a misguided discriminatory practice, it's stunningly cruel, and it must not continue going forward.

So please take a minute to SIGN and SHARE this important petition calling on Ronald McDonald House British Columbia and Yukon to stop discriminating against families based on their vaccination status.

These families need to focus on supporting their loved ones through very difficult medical situations and procedures, not get caught up the maddening politics of the COVID vaccine.

Whereas the Ronald McDonald Houses have historically been a refuge for needy families, they have now tragically succumbed to the mass formation psychosis over COVID taking Canada and the world by storm, and have decided to join in the unconscionable mass targeting of the unvaccinated to virtue-signal their way through these unprecedented times.

This is unacceptable -- particularly from an organization like the Ronald McDonald House -- and it must stop.

Thank you!
FOR MORE INFORMATION:

'Canadian-based Ronald McDonald House evicts unvaccinated family of 4-yr-old with cancer': https://www.lifesitenews.com/news/canadian-based-ronald-mcdonald-house-evicts-unvaccinated-family-of-4-yr-old-with-cancer/

'Pfizer CEO backtracks on jab effectiveness, admits two shots offer 'very limited protection'': https://www.lifesitenews.com/news/pfizer-ceo-claimed-covid-jabs-were-100-effective-now-says-2-shots-offer-very-limited-protection-if-any/
"We sat down to construct these slogans and these passwords, which we knew would be the most effective political rallying cries for the feminists, particularly, but for America in general. They were very effective in 1968," Nathanson said.
Charington then asked Nathanson if the slogans were "realistic" and "honest."
Replied Nathanson: "They are meaningless."
"The slogan 'freedom of choice'," he continued, "only applies where the alternatives in the choice are ethically acceptable. You cannot, for example, say that I should have 'freedom of choice' here now – because I don't like what Dr. Morgentaler is saying — my choices are either to get up and walk away or to punch him in the nose. Well, of course, that's not freedom of choice. The second alternative — violence — is not an ethically acceptable alternative, and therefore, that is not a true choice."
"Similarly, in this particular issue, the alternative of either carrying the pregnancy or destroying it is not an ethically acceptable choice," he added.
How Nathanson came to Canada
Jim Hughes, President Emeritus of Campaign Life Coalition, related some of the back story on how Nathanson came to debate Morgentaler on Canadian live television. It all began when CHCH-TV approached Hughes, the leader of the country's most recognizable pro-life organization, with the idea of having a debate with Morgentaler on live television. Hughes quickly agreed with the idea, but said that he might be able to track down an even more worthy opponent to debate Morgentaler.
"So, I phoned Nathanson in New York and I said, 'Bernie, they want me to debate Henry Morgentaler.' And he said, 'Oh, yeah?' I said, 'What would you think of debating Morgentaler yourself?' And he said, 'I'd love the opportunity.' I said, 'OK, great, I'll get back to you.' So, I got back to the producer at CHCH and I said that Bernie Nathanson, one of the founders of the pro-abortion movement in the United States, is prepared to debate Morgentaler. All he could say was, 'What? How did you get him?' I said, 'Well, we know him.'"
Hughes remembers thinking how Morgentaler must have been utterly dismayed at finding out that he would not be facing Hughes, but Nathanson. "I laughed out loud. I could just imagine Henry finding out that Nathanson was coming to town."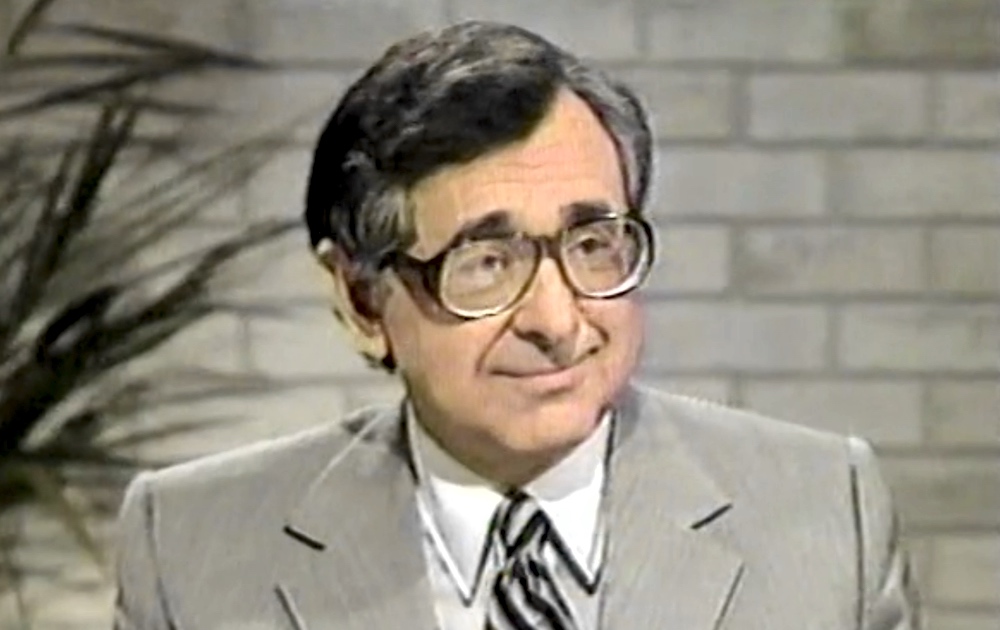 At one point in the 1983 CHCH-TV interview, Morgentaler, presenting himself as a martyr, produced a document which he said was signed by Campaign Life and which, he said, laid out "how to put a damper on the abortion business."
Reading from the document, Morgentaler stated: "Dr. Bernard Nathanson, former abortionist, has suggested that pro-life groups publish the names of pro-abortion doctors in their local newsletters. Such action is highly recommended as it brings significant social pressure to bear on the abortionist and serves as a positive encouragement for them to mend their ways."
We, at Campaign Life Coalition, 39 years later, were gratified to see the thorn that we were in Morgentaler's side. We hope that our opposition to the evil he championed might have been a call for him to wake up to the horror of another Auschwitz, another holocaust, that he helped bring about for Canada's preborn children.
In fact, leaders in the pro-life movement from that time not only prayed for Morgentaler, but even communicated to him that he was being prayed for. "I have been praying for him daily for more than 20 years," said Hughes in 2013 on learning about the abortionist's death. "May God have mercy on his soul." Morgentaler's work has led to the murder of some 4 million Canadian children. And the murder continues unabated to this day.
History is written by the victors. We in the pro-life movement know that the rights of children inside their mothers' wombs will one day be respected and legally protected in this country.
Respect for life will one day be victorious. When that day comes, the name "Morgentaler" will be mentioned in our country's history books with shame and horror. Children reading this history will recoil in disgust that there ever was such a man who not only murdered thousands of children in the womb, but who played a significant part in this evil spreading across the country.
What Morgentaler did and why he did it will be taught in history books written by the victorious pro-life movement as a warning to all to avoid falling for the same lies that this abortionist did, lies that resulted in a genocide against our country's children. May that day come soon, when human life is cherished, honoured, respected, and given legal protection from the first moment of its existence.
At one point in the interview 39 years ago, Nathanson candidly admitted that everything Morgentaler argued would be "absolutely correct," if what was in a woman's womb was not a human being.
"Everything he says is absolutely correct," said Nathanson, "if there were nothing, just a piece of meat, an appendix, in the uterus. But, unfortunately, there is not. It is an identifiable human being. And that human being, unfortunately, has no advocate. No one speaks for it in these abortions. Who is the advocate for the fetus here in your clinic? Who will speak for it?"
Dr. Nathanson's challenge about being an advocate for the preborn is as relevant today as it was 39 years ago. The preborn continue to need advocates today. And, the pro-life movement will continue to respond to God's call to "speak up for those who cannot speak for themselves" (Proverbs 31:9).
Reprinted with permission from Campaign Life Coalition