(Campaign Life Coalition) – When Maria Buelvas discerned that God was asking her to lead a pro-life campaign on the streets of Toronto for 40 days that aimed at convincing abortion-bound women to keep their babies, she also discerned that for this campaign to be fruitful, it would involve lots of prayer, sacrifice, and especially fasting.
"To be honest with you, the one component we didn't do in the other campaigns was fasting. We're all fasting, including our spiritual advisor, on bread and water for 40 days," Maria told Campaign Life Coalition in an exclusive interview.
Beginning March 2nd, Maria and a team of dedicated pro-life advocates embarked on a 40 Days for Life campaign where volunteers hold signs and pray at a nearby abortion mill. The signs have different messages, such as "Pray to end abortion" and "Here to help." The abortion mill in this case was the Abortion Care Clinic in Toronto, which has been killing pre-born children either medically or surgically since 1996.
The name "40 days" comes from the timeframe God consistently uses throughout salvation history to transform His people. For example, God washed sin from the earth with 40 days of rain in the time of Noah. The Hebrew people lived outside the promised land for 40 years as a corrective punishment due to worshipping false gods. Jesus prepared himself to transform the world by fasting and praying for 40 days in the wilderness.
Maria, a registered nurse by profession, told Campaign Life Coalition that about 150 people from the parish she attends with her husband and three children have also joined in the campaign, by fasting on bread and water for 40 days with the intention of saving lives from abortion.
"In the Scriptures, there are demons who can only be cast out through prayer and fasting. So, that was our inspiration, along with Jesus, fasting for 40 days in the desert," she said.
"Fasting helps us to get a little bit more closer to the heart of God. When we deny ourselves something that is necessary for our physical well-being, such as food and drink, it helps us to home in on the spiritual reality that all we need is Him."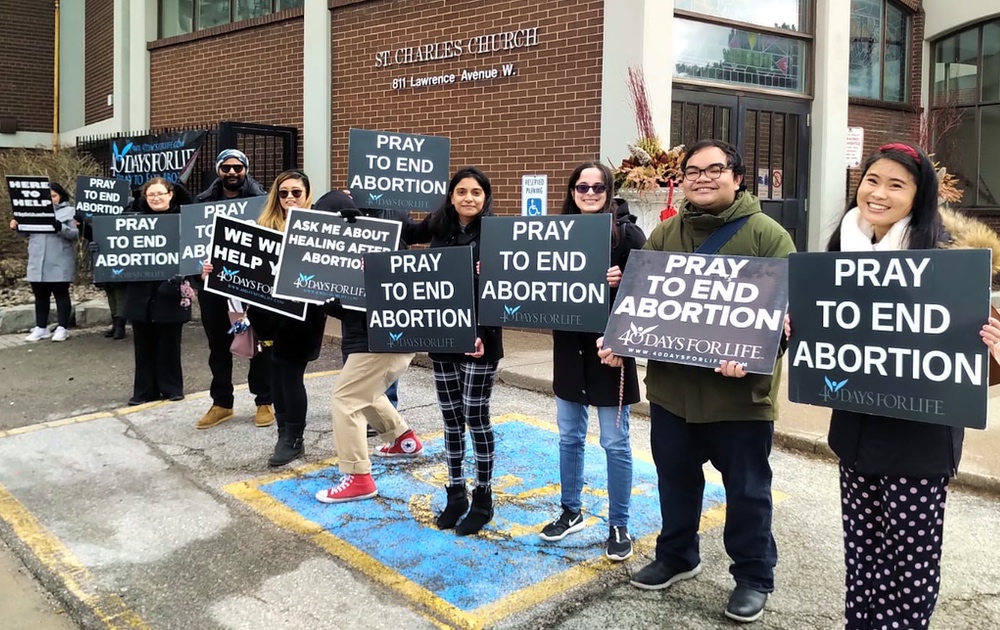 Maria said that fasting on bread and water for so many days is "like being on a retreat." She said the fasting helps bring focus to her prayer, gives her surprisingly more energy, and help keep her more centred on God.
"I find that I'm even more energetic, that I have more like an internal strength that I can just presume that it comes from God. It is just Him. You just feel that He's the one in you and you're acting and seeing things differently," she said.
Another reason the campaign has been so successful this year is the new signs that the volunteers hold that offer help to women. The new signs have been important in drawing people in. The first reads: "We will help you." The second: "Ask me about healing after abortion."
"Those two have been really important. They have drawn people's attention," Maria said, adding that people told her afterwards that those signs let them know that they could approach the group to ask questions.
Another essential component to the Toronto group's pro-life campaign is the support of the Sisters of Life, a pro-life Catholic group of consecrated women who have a special charism of helping women facing a crisis pregnancy. The sisters offer counselling in-person or online and can help pregnant women with housing, employment, medical assistance, legal advice, and emotional and spiritual accompaniment. They have a website from which they can be reached (click here).
"They are the 'parachute,' as I call them," Maria said, "because whenever we have a woman who needs help, I always take their information and pass it on to the sisters, saying please send in help. And sure enough, they do help."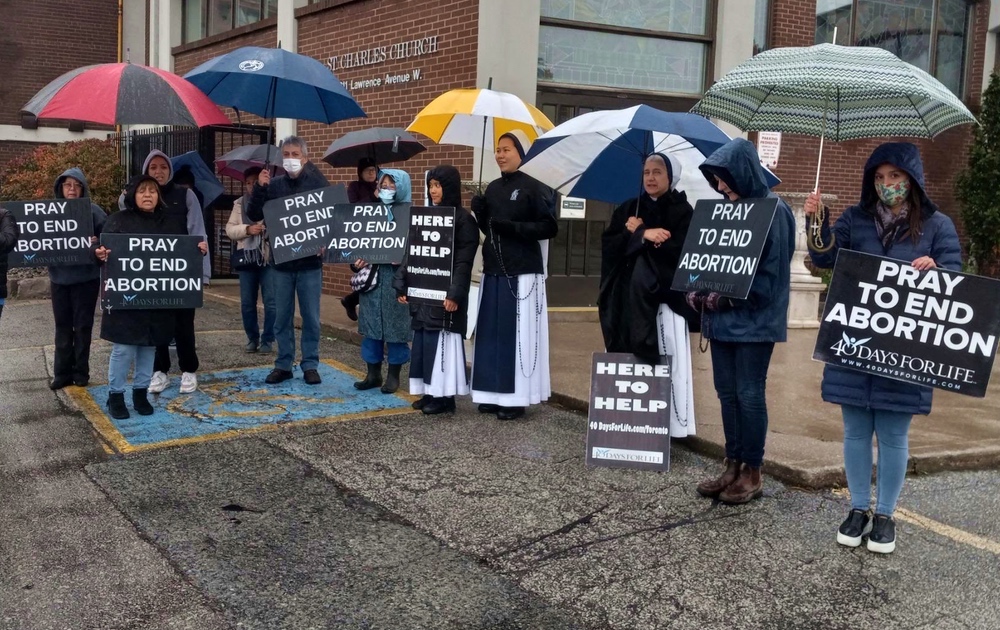 Maria outlined the stories of the mothers who chose life for their babies during the campaign which ended April 10th.
Alone and on the streets
A woman named Lily* had just learnt that she was pregnant. The father had abandoned both Lilly and their pre-born child. She was alone and on the streets, without a place to go. A friend of Lilly's reached out to the campaign, asking for help.
"We contacted the Sisters of Life who work closely with us and they were able to find a shelter for this pregnant woman in her vulnerable situation. Now she is accompanied by the Sisters and we as a group are helping her along the way too," Maria said.
Looking for a sign from God
Rachael had already made an appointment for an abortion, but was looking for a sign that she should not go through with it. When she saw the signs held by the 40 Days for Life campaign, one which stated, "You Don't have to do this today," she realized that she had received the sign she had been looking for.
Maria said that Rachael came to thank the group for being there, and they prayed with her. "She drove back the opposite way from the abortion facility and said she will keep the baby," Maria said.
In a vulnerable situation
A young student named Cecilia discovered she was pregnant and decided to reach out to the 40 Days for Life group for help after hearing about the pro-life campaign from her parish. She was in a vulnerable situation and realized that she needed help.
"The Sisters of Life and our group are now accompanying her in her pregnancy journey," Maria said.
Grandmother about to lose great-grandchild
A grandmother named Sandra shared with the pro-life advocates that her pregnant granddaughter had booked an appointment to abort her great-granddaughter. Sandra asked the group to pray that her granddaughter would not go through with the abortion. She received pro-life pamphlets to pass on to her granddaughter.
"Sandra took the pamphlets and brought them home. Her granddaughter read them and did not go to the abortion facility. Now, she informed us that her granddaughter will keep the baby despite having pressure from the father to abort," said Maria.
The father did not want the baby
Veronica was going to go through with an abortion because the father did not want a baby. When Veronica's friend Liam learned about the situation, he approached the pro-life advocates and asked for help.
"We talked to him and gave him information about the pro-life centres where he could go for help. He immediately called the Sisters of Life who helped right away, asking him to put Veronica in contact with them. After talking to the sisters, Veronica decided to keep her baby who is 2 months gestation," said Maria.
Vulnerable student
A 27-year-old student was contemplating abortion after her boyfriend left her. She was feeling all alone and vulnerable. When she saw the pro-life campaign with a sign that read "We will help you," she reached out for help. She agreed to meet with the Sisters of Life.
"Finally, yesterday, the Sisters wrote to us saying that she chose life after all and that they are journeying with her now," Maria said.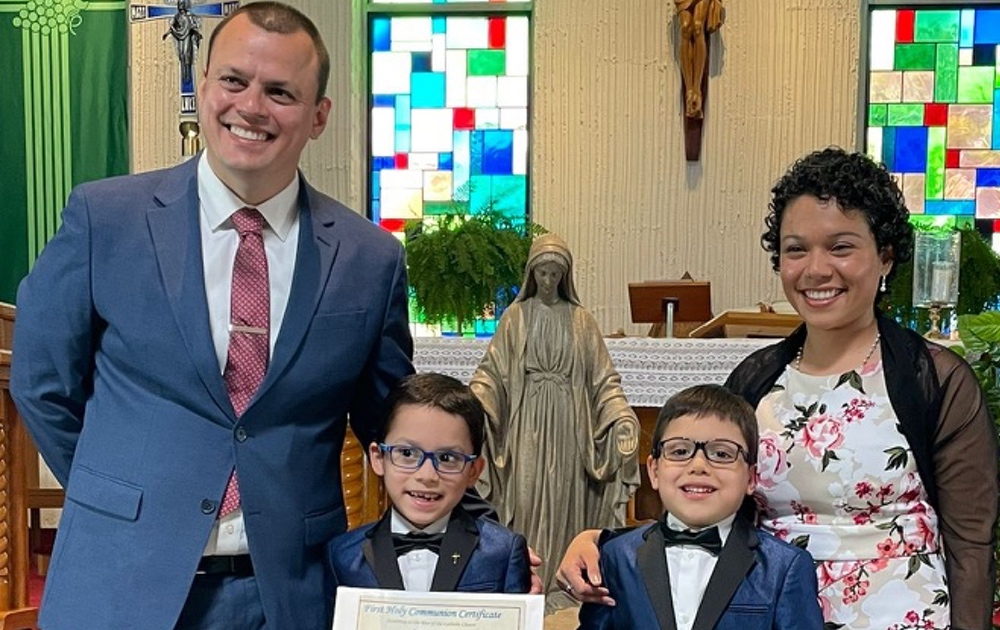 Maria, when asked what kind of advice she would give to someone who was thinking about doing pro-life work but was nervous about jumping in, replied that helping abortion-bound women is "God's work" and that He gives people whom He calls to do it the strength to accomplish it.
"This is God's work," she said. "He will lead the way. We just need an open heart and to take a leap of faith. The rest will happen."
Reprinted with permission from Campaign Life Coalition