If you're tired of censorship, cancel culture, and the erosion of civil liberties subscribe to Reclaim The Net.
(Reclaim The Net) – Journalist and author Alex Berenson's Twitter account has been reinstated as part of a resolution to a censorship lawsuit that both parties agreed to settle earlier this week.
Berenson shared an official reinstatement statement where Twitter acknowledged its error in suspending his account:
The parties have come to a mutually acceptable resolution. I have been reinstated. Twitter has acknowledged that my tweets should have not led to my suspension at that time.
Twitter suspended Berenson last year after flagging one of his tweets that questioned the effectiveness of COVID vaccines and suggested that they're "at best…a therapeutic with a limited window of efficacy and terrible side effect profile that must be dosed IN ADVANCE OF ILLNESS."
Berenson responded by suing Twitter and accusing the tech platform of acting "on behalf of the federal government in censoring and barring him from access to its platform."
After being reinstated, Berenson tweeted and pinned the statement that led to his suspension.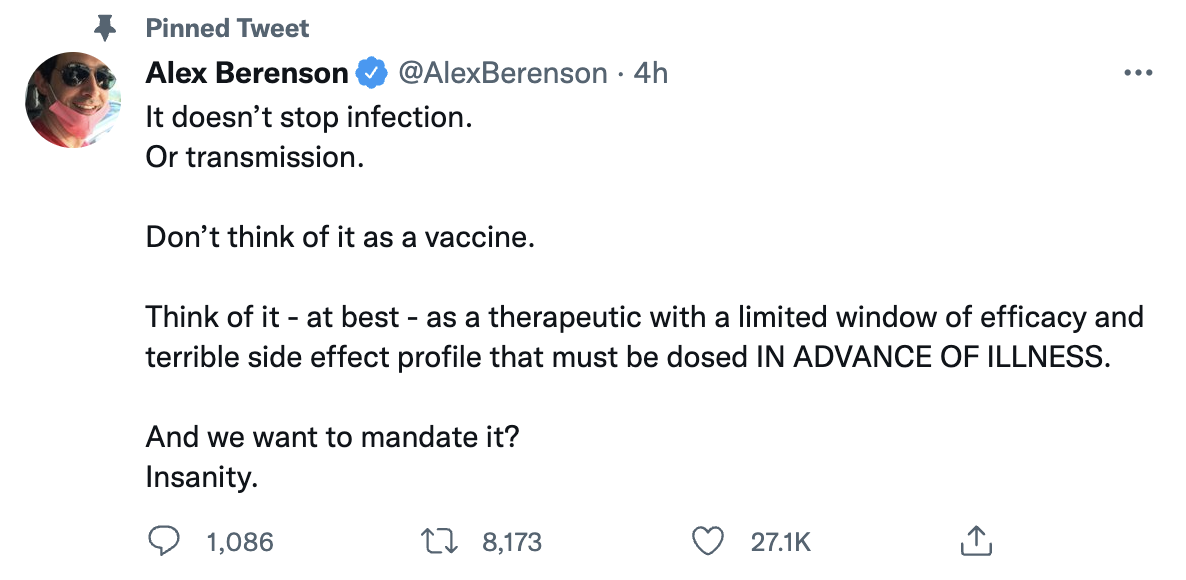 Berenson also noted that the settlement "does not end my investigation into the pressures that the government may have placed on Twitter to suspend my account" and said he'll provide more information on this issue in the near future.
Tesla and SpaceX CEO Elon Musk, who has offered to buy Twitter for $44 billion, responded to Berenson's reinstatement by asking for further details on the pressures the government may have placed on Twitter.
"I wish I could," Berenson tweeted in response to Musk. "But the settlement with @Twitter prevents me from doing so. However, in the near future I hope and expect to have more to report."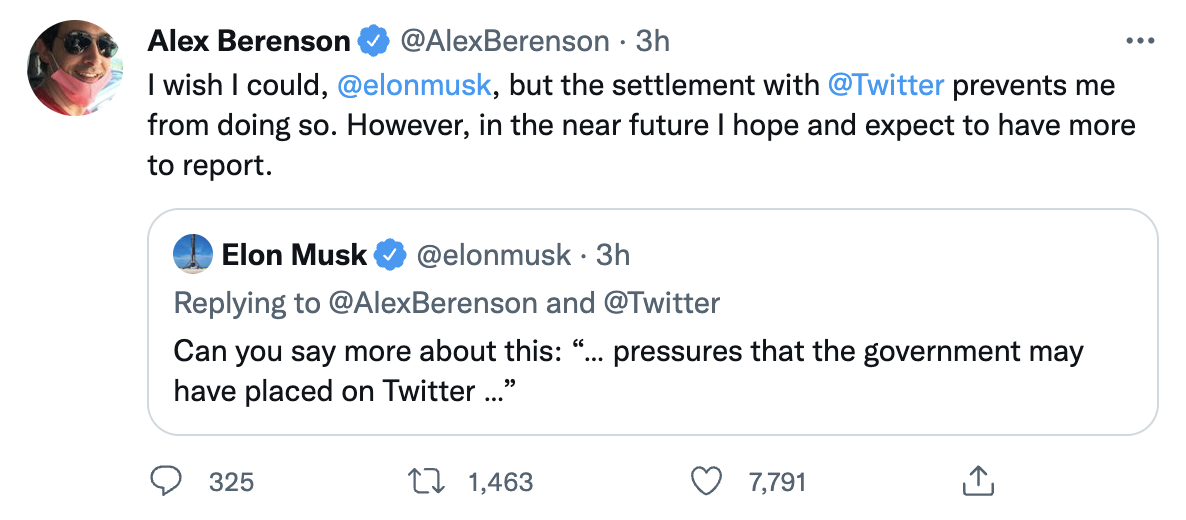 — Article continues below Petition —
DEFEND Mothers and Babies Against Powerful CEOs Paying Female Employees to Abort!
Show Petition Text
5492
have signed the petition.
Thank you for signing this petition!
Add your signature:
Show Petition Text
30+ powerful big-box, Big Tech, and mainstream media companies are targeting their young female employees by offering abortion travel "benefits" to new mothers — to kill their children for the sake of corporate profit and productivity!
THIS PRO-DEATH CORPORATE CULTURE WILL DESTROY LIVES AND VILLIFY BIG FAMILIES AND PRO-LIFE VALUES IF WE DON'T ACT NOW!
***WE CANNOT LOSE THE PRO-LIFE VICTORY AFTER ROE V. WADE TO ANTI-FAMILY COMPANIES! SEND A MESSAGE TO POWERFUL CEOs TODAY THAT YOU SUPPORT OUR CHILDREN'S RIGHTS OF LIFE, LIBERTY, AND THE PURSUIT OF HAPPINESS!***
SIGN THE PETITION NOW TO WIN THE CORPORATE PRO-LIFE BATTLE!
Starbucks said it would reimburse travel expenses for employees who need abortions and cannot get them within 100 miles of their homes. In a memo on Monday, the company said it wanted to ensure that its employees had "access to quality health care." https://t.co/PI1Yg2xKTx

— The New York Times (@nytimes) May 16, 2022
Amazon says it will pay up to $4,000 in travel expenses annually for non-life threatening medical treatments including abortions, according to a message seen by Reuters. https://t.co/9M4Dtdzb4X

— NBC News (@NBCNews) May 3, 2022
The pro-life movement has a once-in-a-lifetime opportunity to send a pro-family message to millions of citizens for generations to come — but we cannot LOSE OUT on this moment by caving to corporations and their cheap and disgusting "abortion" benefits!
CONSUMERS MUST SEND A RESOUNDING MESSAGE TO ALL CORPORATE LEADERS THAT WE WILL NOT TOLERATE EMPLOYEE ABORTION PRESSURE!
SIGN TODAY and demand the following company CEOs SUPPORT WOMEN AND CHILDREN NOW!
***WE ARE DELIVERING THIS LETTER TO EACH AND EVERY ONE OF THEM!***
Jeff Bezos – Amazon
Brian Moynihan – Bank of America
Whitney Wolfe Herd – Bumble
BuzzFeed – Jonah Peretti
Cigna Health Insurance – David Cordani
Citigroup – Jane Fraser
CNN – Chris Licht
Comcast – Brian Roberts
Condé Nast – Roger Lynch
CVS Health – Karen Lynch
Dick's Sporting Goods – Lauren Hobart
Goldman Sachs – David Solomon
Hewlett-Packard – Enrique Lores
JPMorgan Chase – Jamie Dimon
Kroger – Rodney McMullen
New York Times – Meredith Kopit Levien
Lyft – Logan Green
MasterCard – Michael Miebach
Meta/Facebook - Mark Zuckerberg
Microsoft – Satya Nadella
Paramount – Brian Robbins
Patagonia – Jenna Johnson
PayPal – Dan Schulman
Procter & Gamble – Jon Moeller
Salesforce – Marc Benioff
Starbucks – Kevin Johnson
Target – Brian Cornell
Tesla, Inc. – Elon Musk
Uber – Dara Khosrowshahi
Vox Media – Jim Bankoff
Disney – Bob Chapek
Yelp – Jeremy Stoppelman
Zillow – Rich Barton
*** SIGN NOW AND MAKE YOUR PRO-LIFE AND PRO-FAMILY VOICE HEARD AT THE WORLD'S LARGEST CORPORATIONS! TELL THESE CEOs TO STOP SUPPORTING ABORTION TODAY! ***
_____
Image Logos: Wikipedia
The reinstatement of Berenson is the first time a large tech platform has admitted it should not have banned a prominent user and reinstated their account as part of a legal settlement.
"This has NEVER happened before," Berenson noted.
Previous lawsuits that have accused Big Tech of censoring users in response to government pressure have been dismissed and the affected users have not been reinstated. For example, a lawsuit that was filed in March and alleged that Twitter had censored several accounts in response to federal government pressure was dismissed in May.
Jenin Younes, one of the civil liberties attorneys that filed this March lawsuit, welcomed Berenson's reinstatement and the information he plans to provide on pressure that the government may have placed on Twitter.
"His removal was a disgrace, esp. because it was clearly coordinated by the Government," Younes tweeted. "I hope that he is able to shed light on the degree of unconstitutional government involvement in social media censorship as he has promised."
If you're tired of censorship, cancel culture, and the erosion of civil liberties subscribe to Reclaim The Net.
Reprinted with permission from Reclaim The Net
Help Jenny Porter recover from her vaccine injury: LifeFunder